7 min read
Connecting Campuses Together with Michael Preston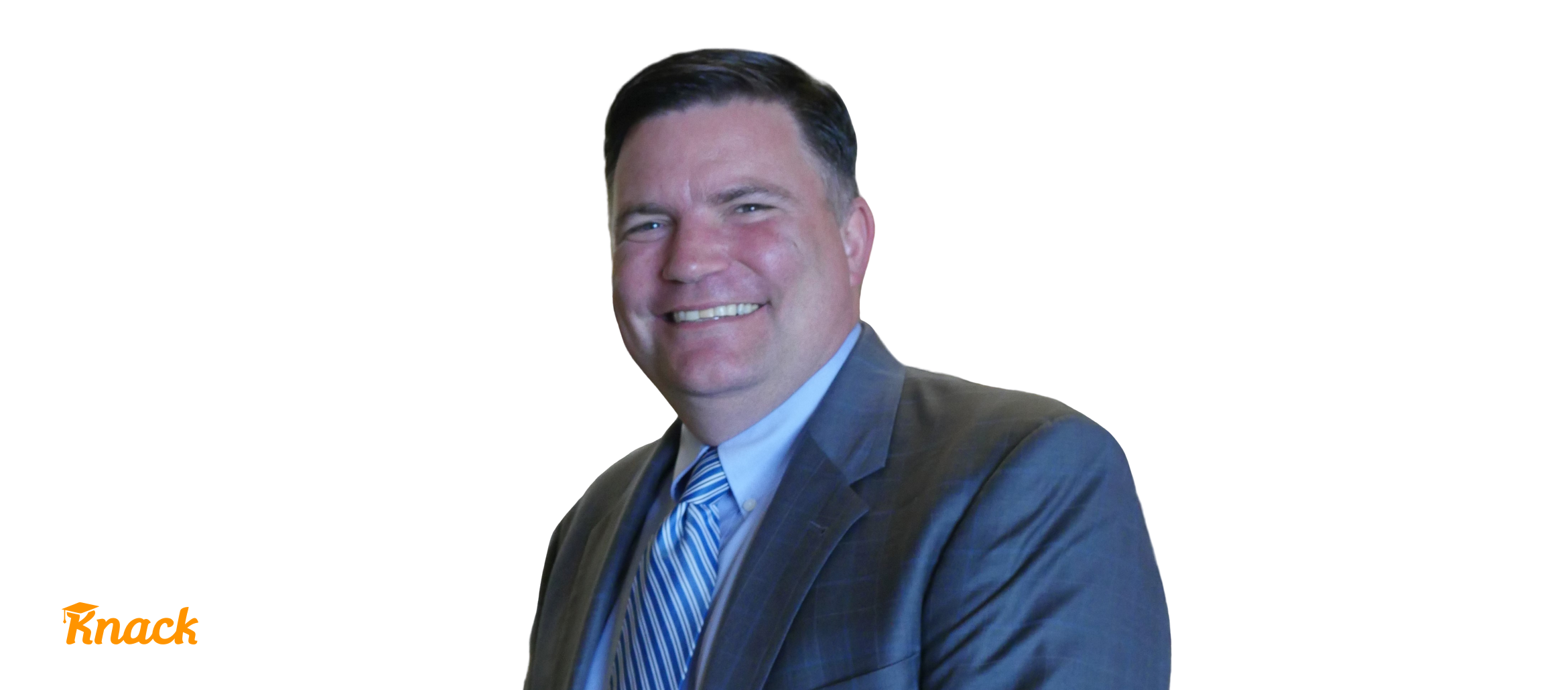 Something that I've been geeking out about lately is the concept of networking together higher education institutions to work with one another to better support student success. It's something I've written about and it's just sort of stuck on my mind. I feel like there is so much potential here, and it was great to explore an example of this model working in Florida.
I was super excited about the opportunity to talk with Michael Preston, who is the Executive Director of the Florida Consortium of Metropolitan Universities (FCMU).
---
Dustin Ramsdell: Can you share a bit about your history in the higher ed field?
Michael Preston: I attended East Carolina University as an undergraduate, and I was a very involved student there— I was an Orientation Leader and president of our student union. That led to an interest in a career in student affairs… I attended Southern Illinois University at Carbondale in the mid 1990s, where I got my master's degree in college student personnel services. From there, I went and worked for 13 years for a university in Texas called Stephen F. Austin State University where I did mainly student activities, student involvement and engagement work, some first year experience, and I was also involved with the National Association for Campus Activities (NACA). When I received my EdD in 2011 from Texas A&M University – Commerce, it enabled me to join the staff at the University of Central Florida (UCF) as the Director of the Office of Student Involvement. Part of what I believe made me qualified for my current role was that I was really well known on our campus for creating collaborative opportunities throughout the UCF campus. This idea of collaboration in higher education amongst different departments on campus seemed to be a good fit for my skill set and my disposition because when we start talking about skills, it's not always about those hard skills that you have in terms of talent. It is also the skills that you bring in the way that you approach your work and how people see you. So, when the opportunity for the consortium came up, I was encouraged to apply to kind of pull groups together and let them see the different kinds of opportunities that we have in front of us in terms of student success.
DR: Even with it seeming like a perfect fit, what drew you to your current role, since it is so unique?
MP: I also teach in the higher ed program, at UCF and for a number of years they've taught organization administration of higher education. One of the areas that we often talk about in my class is higher ed collaborations— how universities work together in order to achieve their goals, even though they tend to be siloed up and have different kinds of metrics and outcomes that they're expected to meet. If we can make this happen on a single college campus, why can't we make it happen on multiple campuses? After all, we have the same goals as universities, I would suspect, and that is academic excellence and to allow for our students to have excellent career opportunities. Quite frankly, I started to have a real firm belief that, as a higher education enterprise, if we were going to be really successful in the work that we're doing with students and student success, we were going to have to work together more readily and form these coalitions in order to survive. We're starting to see more and more higher education collaboration across the country, simply because in order to advance the kinds of scalable student student success solutions that we know are out there, we need to work with each other. That way we can have an understanding of how these different systems work instead of going it alone and trying to do all of the research and development on our own and inventing everything as if we're the first ones to do so.
DR: Can you give some examples of the work you do with FCMU?
MP: We started in 2015 as a policy and advocacy organization that was focused on trying to work together to receive better funding streams from the state. Then, shortly after we formed, the state shifted to a performance metrics base and so we had to almost reinvent ourselves from the beginning. We took this turn and started saying what if we work together in student success zones and really focus on two things; this idea of access and opportunity for students in the three cities that we serve (Orlando, Tampa, and Miami), as well as career readiness and whether or not our students are going to graduate with the skills and the abilities that put them in an advantageous position. So, we started doing some work in that area and there's a couple of things that we've accomplished in the past couple years that we're extremely proud of.
The first example is elevating teaching and learning in the classroom, especially for STEM students. We just got done with a $1.5 million three year grant from the Helmsley Charitable Trust in which we worked together to design innovative techniques in the classroom that incorporated active learning for large scale classrooms. One of the things that we really paid attention to was the idea that when all three of our institutions or universities were 50,000 plus students, you're not going to have 100 or 150 person intro to biology or calculus class. These are going to be 400-500 students. So, one of the ways that we've explored getting around that is by adding Learning Assistants to these classrooms. What happens is that we have four or five specially trained students that aren't just tutors but they actually assist in the teaching of the course and help that 500 student class become five sections of hundred student classes. From that we found our rates of DFW grades went down 40% and 50% in some of these high DFW classes like intro to algebra, calculus, biology, or physiology. Some of the classes that traditionally had been considered weed-out classes, we found that they became springboard classes. We think that that it's a promising practice that we're going to continue to follow through on.
The other promising practice that I'd like to highlight is that we really got engaged in the business community here in Florida. I'm a trustee for the Florida Chamber of Commerce, and I spend a lot of my time out in the public arena discussing what the merits of higher education are and what kinds of talents our students are really showcasing. We believe that talent development and skill development is not an actual technical problem in which our students aren't graduating with the skills needed, it is actually an articulation problem and that's much easier to solve. This has changed some of the ways that our businesses and our industry groups are looking at our students and they are starting to write job descriptions that are more skills-based and they're interacting with different departments on campus that they ordinarily would not have. For example, liberal arts students are showcasing the fact that they do have skills desired by employers. Women and Gender Studies, which has been maligned in the state of Florida for a number of years, we're finding that those students are making excellent project managers. History students make great researchers for insurance firms and for other businesses because they have great research skills and a great ability to articulate what is needed in the marketplace because of their ability to write. With all of that, we're seeing an uptick in the not only our graduation rates, which are 10% higher than what we anticipated when we started, but also our job placement rates, which were about 8% higher than what we had projected. So, we're exceeding a lot of our metrics that we previously had more modest goals for, and so that's something that we're really excited about.
DR: What are trends that you are seeing right now around student success?
MP: The real trend that I'm seeing is that academic outcomes are really starting to bleed into co-curricular and extracurricular experiences. I think that there's an expectation now that co-curricular and extracurricular experiences on a college campus maintain the same kind of rigor and opportunity that you see in the classroom. But, I would say on the other side for faculty members, what we're seeing in terms of student success is that they are integrating career development much earlier in the classroom. So, they have more project-based learning happening where businesses are actually generating content for our classrooms. We're seeing this a lot, especially in STEM where they're partnering with local businesses to actually do work that will not only help them understand the curriculum that they're learning but actually give them verifiable experiences that they can put on the resume. So, this becomes a much more symbiotic relationship, which I don't think we were really doing a whole lot of. We had internships, but I wouldn't say that those internships weren't nearly as fully baked as some of these opportunities that we're seeing in the classroom.
The third thing that we're really looking at is that we know students are achieving skill sets that are going to bode well for them throughout their careers, but for a very long time we would discourage students from working at Disney, for example, because it was seen as service work. Well, service work is skilled labor. The idea that we're now incorporating that into a strategy where we're encouraging students to work because it's good for them versus discouraging that. We know students are going to work anyway, but also a better understanding of how that can be beneficial for students. We're learning more and more that off-campus employers do this better than on-campus employers. For many years, I think we were doing our students a disservice. There was a study that a colleague of mine developed through CampusLabs; we were expecting that campus work experience would have this great impact, but it really came in dead last behind every other type of experience students had. That's was a little bit of an eye opener, and that's where we started to change our tune a little bit.
DR: How do you see technology factoring in to your work supporting student success?
MP: I think one way is the infrastructure piece. That is having much better access to data through technology. The ability for technology solutions to dashboard and parse that data to where we can actually use it is much better now than it was even 5 or 10 years ago. We just have much better reporting now being able to to form opportunities for visualization. Student affairs professionals themselves can now use data in a way that helps them do their jobs better. For students, what that's allowing us to do is integrate different learning solutions in our learning management software (LMS). They can do skill building through things like Badger, where you can actually complete tasks and receive those electronic badges then have them automatically credited to your academic record. This allows for students to better organize their thoughts and to understand exactly where they're at in terms of their skills that are desired by employers. If we can have that repository for our students to then have that catalog available for employers, it makes it a lot easier when they get around to preparing for interviews.
Note: This conversation has been edited for brevity and clarity.
---
I very much appreciate Michael's time and all that he shared. He has a wealth of experience, knowledge, and passion for student success. I can't wait to see what he does next with FCMU!