8 min read
The Merging of Higher Ed Objectives with Student Engagement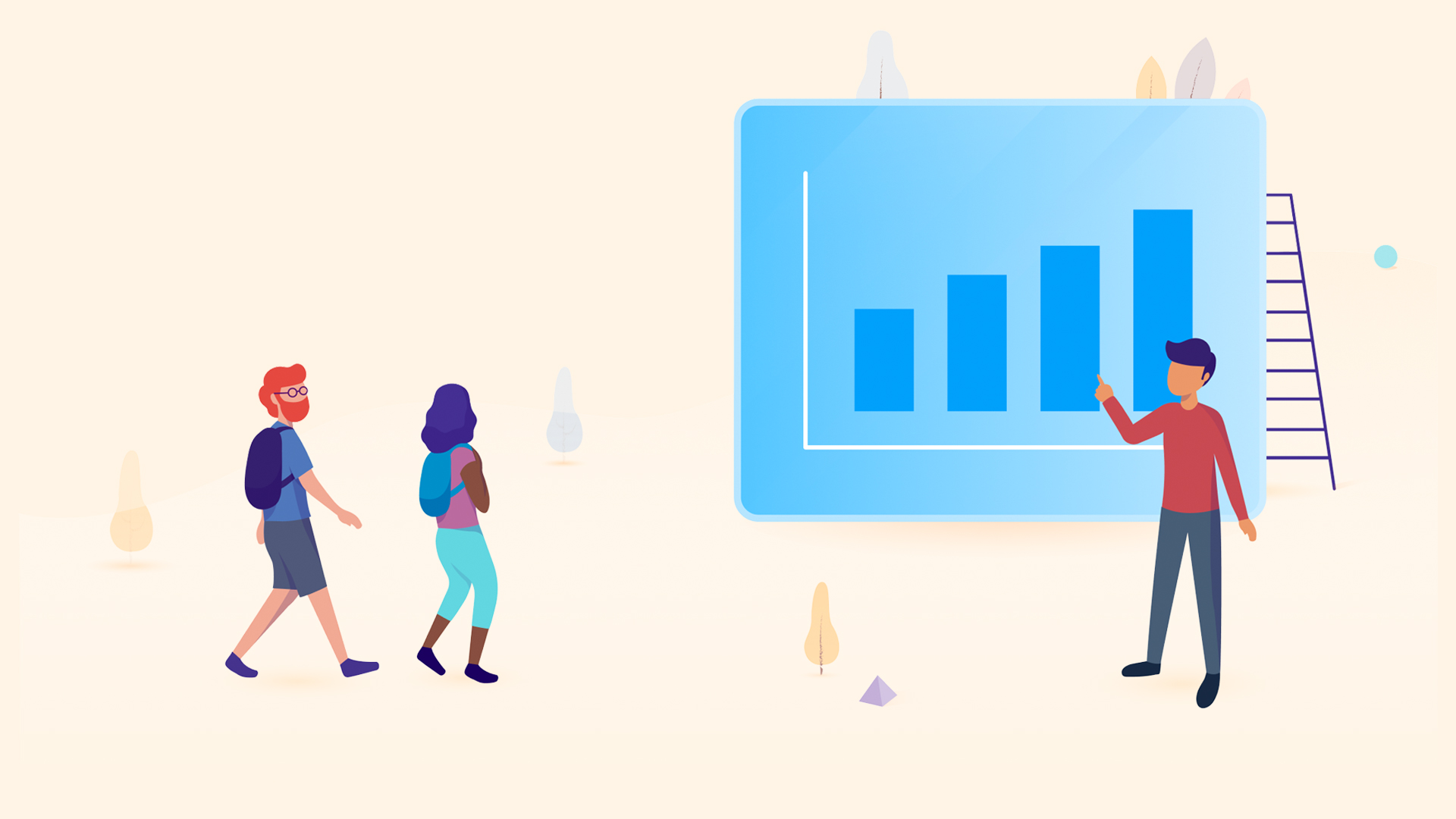 In many respects, higher education is at an inflection point, facing an increased dialogue among the younger generation regarding the cost-effectiveness and return on investment of a degree. To better understand how student engagement runs at the center of the issue, I engaged in an informative and thought-provoking interview with George Kuh, a man at the center of initiatives focused on the relationship between institutional learning objectives and student engagement.


When it comes to taking the pulse and reading the environments inside higher ed, few individuals have experience in gauging student engagement as George Kuh.
He is the Founding Director, Senior Scholar, and Co-principal Investigator at the National Institute for Learning Outcomes Assessment, an Adjunct Professor at the University of Illinois, and Chancellor's Professor Emeritus at Indiana University.
In addition, he has written extensively about student engagement, assessment, and institution cultural improvement, while also consulting with hundreds of colleges and universities in the U.S. and abroad.
Kuh has spent years reviewing and analyzing complex data information, determining what institutions do to engage students inside and outside the classroom to achieve institutional outcomes. The relationship between time invested in study and educationally meaningful activities is at the center of Kuh's awareness and concentration.
Early Backdrop
As a backdrop to understanding the history of student engagement data analysis, Kuh expanded on the early days of his involvement with the National Survey of Student Engagement that kicked off in 2000 after a grant from the PEW Charitable trust. "The National Survey of Student Engagement NSSE, or 'Nessie' as we called it, was created to give institutions information about the student experience they didn't have," explained Kuh. "It used to be used in college rankings and law school rankings to determine what institutions had in terms of resources and the number of faculty with terminal degrees."
According to Kuh, NSSE provided institutions with information about what students did or how they used institutional resources. "Questions were asked: What kinds of interactions do you have with faculty? What kinds of interactions do you have with other students? How often do you interact with students different from you in race, ethnicity, socio-political views, and so forth? In addition, there were behavioral questions: Have you studied abroad? Have you had a community engagement experience? Have you ever done research with a faculty member?" Kuh added.
NSSE is now in its 24th year, and although Kuh is no longer directly involved in the process, he recognizes the importance of the ongoing effort. "NSSE gives schools a window into the student experience that institutions could actually do something about. Moreover, it's one of the few foundation-funded initiatives that took root and is self-sustaining," said Kuh.
Retention Goals
Although NSSE wasn't explicitly designed to develop data to address retention efforts at universities, it did provide kernels of information further developed by other initiatives. Today, universities face a growing problem with keeping students throughout the lifecycle of higher ed. "Retention is mindful of swollen ankles," joked Kuh. "I prefer to call it persistence and completion. In terms of motivating students to finish what they start, students need to find relevance and meaning in their time on campus."
As Kuh explained, even though we know so much more now about pedagogy and how to involve students in their learning in classes and the studio labs - it's typically not the problem. Instead, the specific issue is the large undergraduate early courses, the Gen Ed courses, with hundreds of students. "How do you animate? How do you involve students? That becomes key, and there are outstanding examples of how to do it," he said.
Kuh pointed to how the University of Michigan offers opt-in courses for first-year students guaranteeing a small seminar of 20-25 students with a faculty member. Every student in that small seminar works with at least one faculty member during their first year. It creates an immediate relationship-building bond with faculty as a significant result. "Equally important, they get to know a set of students or peers that they probably would not otherwise have come into contact with," added Kuh.
Importance of Peer-to-Peer
"On a university campus, the single most important group in deciding how another student is going to behave is their peers," stated Kuh. While faculty interaction is essential, the element of belonging and fitting in appears to lie in the peer connection. "There's a steady stream of research now about belonging and how important that is to retention, said Kuh. "They used to roll me out at Indiana University when I was on the faculty. I'd attend a parent meeting, and most parents would say, 'What should my student be doing?" I would tell them to find the right friends. It's that affinity group that has a huge influence on how students perform."
Kuh pointed to a correlation between emotions and learning. "There's a variety of literature about how the affective domain influences one's thinking. More people now readily accept that feelings affect thinking. But, unfortunately, it happened all too slowly in the 'academy,' as we call it," said Kuh.
Peers also play a valuable role in acquiring knowledge and competencies for students on campus. It can have a direct impact on learning as a whole. Kuh now sits in a senior advisory role with Knack, a tutoring platform that utilizes peer-to-peer efforts to further learning inside institutions. "Knack has found, through its technology-enhanced platform, a way to provide peer advising that can employ more peer tutors than an institution because of the way they're staffed," said Kuh. "Most tutoring operations on campus have a full-time staff member, someone sitting in an office on the clock and being paid, whether or not students are using the service. Students want on-demand tutoring, and Knack is working with national associations and rigorous training for peer tutor development programs that bring people together."
According to Kuh, peer-to-peer learning brings forth an honesty often not displayed in a student-faculty relationship. "Students are sometimes more open to expressing that they have little clue of what they are doing to a peer. They are comfortable expressing their frailties," said Kuh. "On the peer tutor side, there's a fair amount of time invested in becoming good at the tutoring experience. With technology-enhanced methods, the peer tutoring model has a way of scaling on campus."
One of the setbacks on campus is that students are often funneled into remedial programs that do not count toward their course requirements, spending an overabundant amount of time learning skills that could have been acquired in a brush-up tutoring effort. This frustration can lead to students opting out of an institution, causing retention issues for universities. "Knack demonstrated that their technology-enhanced approach to peer tutoring qualified in my language as a high-impact practice," said Kuh. "Students were likelier to finish what they started and felt satisfied with better grades and overall outcomes. It convinced me to sign up as a senior advisor to help design data collection activities to create a positive effect."
Seamless Learning Environments
In the eyes of Kuh, it's about creating seamless learning environments and making the out-of-classroom experience more congenial to the institution's educational mission. Many high-impact practices take place outside the classroom, creating an excellent laboratory for learning.
"Traditional-age students are spending at least 70% of their waking hours not in class. How do you use that discretionary time for educationally purposeful activities?," asked Kuh. A faculty member teaches a course, but much of what's valuable about the course takes place beyond the typical class. Some students are off campus working in a community agency, doing research with a faculty member that could be classroom based, but according to Kuh, the work gets done outside class hours. Study abroad experience and internships are areas that educate undergraduate experience and increase the overall student population in understanding the benefits of such programs to future employers and professional trajectories.
Tackling Inequity with Technology
"Students from college-educated families have continued to be more likely to find their way into study abroad and internship activities," shared Kuh. However, there's a vast disparity between those who enter these activities and those who do not. While money is a factor, Kuh recognizes a mindset component. "It's typically not thinking about these areas as being particularly valuable. When you ask employers what they're looking for in college graduates, they want to see someone sticking with a project for a long time and demonstrating that they could finish it."
Technology can play a role in lifting the inequity bar inside higher ed. "Knack demonstrates that technology can get more peer tutors' work and more students to seek tutoring," said Kuh. "And here's the big kicker: many students are from underrepresented, historically underrepresented backgrounds. They're low income, less well-prepared for college, and they represent an ethnic minority in the context of that institution."
According to Kuh, there's a great deal of buzz in the education space over what Georgia State University in Atlanta is doing with technology to help the student population. Certain "nudges" are occurring using AI bots to ping a student and remind them of everything from the simple to the complex. It can allow students to stay on top of financial aid forms, early registration, or even when to check with an advisor.
Economics of Higher Ed
For higher ed, the meter is running, and sustainability rises to the top with engagement, technologies, and the economic models that keep the student body where it is as a numbers game that can transfer to the next crop of students. But, unfortunately, there's a cost issue at the core. Strikingly, Kuh suggested a simple reminder. "It costs much more to recruit a new student than it does to keep one," he says. "If we could figure out a way to keep more students, pay the tuition dollars, get state subsidies for those students, and so forth. It's probably the main driver of why institutions in the last 25 years have started to worry about their retention numbers, including the regional accrediting associations, which are responsible for determining whether an institution is delivering a high enough quality product."
Kuh expressed concern over the "value add" of higher ed that continually enters the conversation. There is more to the picture that some parents and students might be missing from the experience of college, according to Kuh. "I wrote an article in Harvard Business Review about the push for short-term credentials to overcome the economic crisis among certain politicians. However, if you ask them what their kids are doing, they are going to college. Because college is still the best bet we have in the numbers in terms of economic return."
According to Kuh, some people will always choose paths other than higher ed. Still, the narrative should remain that it's a positive choice from a critical thinking, economic, and even social-emotional perspective. Kuh believes universities are a rich resource center for learning, analyzing, and thinking discerningly.
"I worry about the state of our democracy. Are students going to learn how to read what is authentic instead of being seduced by something flat-out made up? We certainly need more people who can think and interact effectively," said Kuh.
To hear my interview with the affable and ever-engaging George Kuh, check out our podcast here and check back for future articles that continue to ask the big questions driving higher education.
Additional podcasts exploring student's experiences on campus: