4 min read
Tutor Success Stories: Tiffany Jackson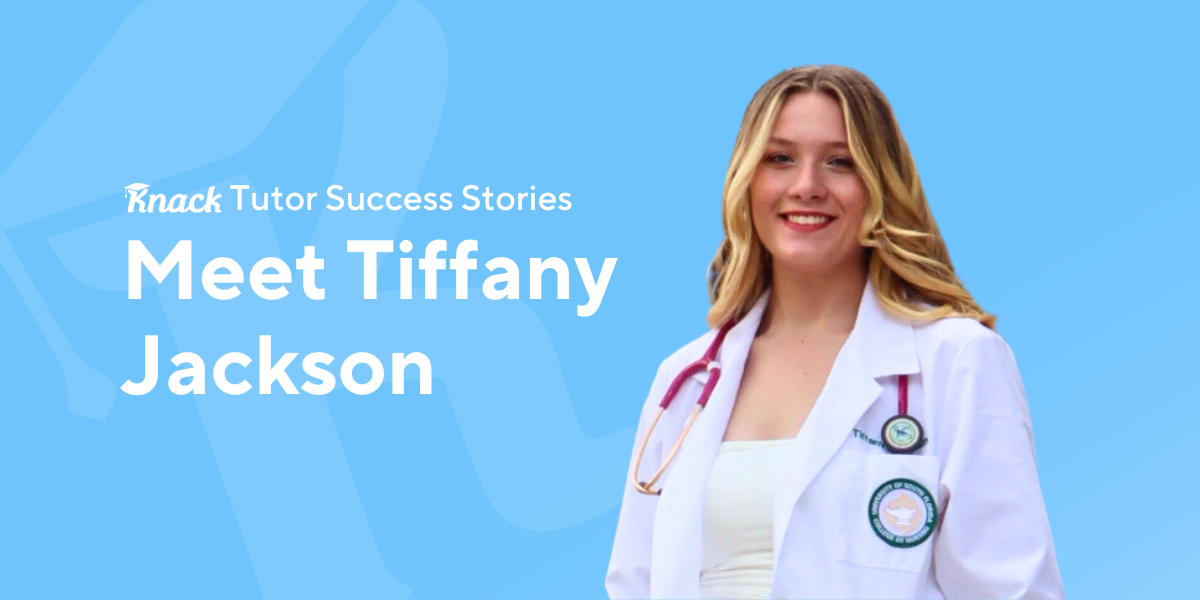 Meet Tiffany Jackson, a former tutor at the University of South Florida.
Tiffany began tutoring on Knack in 2022. She tutored fellow nursing students in courses such as Complex Health Nursing and Pathophysiology. During her time at Knack, Tiffany was one of the platform's most active tutors, which led to her recognition as Knack's first Tutor of the Month. As she begins her nursing residency program at AdventHealth, we asked her to reflect on her time tutoring on Knack.
Tell us about yourself!
"I graduated this past semester and I recently accepted a job working for AdventHealth. I ended up working for the American Red Cross for a little bit and that's how I got my start into nursing. All throughout school, I'd always spend my free time painting and reading. I definitely kept myself busy, but I think that's really what helped, just making sure to do the things that I love."
How did you first hear about Knack?
"One day, after being notified I didn't get a leadership position I applied to, I got an email from our Student Success department asking if anyone was interested in tutoring a student struggling with Pathophysiology, so I volunteered. Originally, it was just me setting up Zoom meetings with the student, but then she would bring friends and then they would bring more friends. When the fall came around, the woman who asked me to start tutoring said, 'Hey, we're thinking about using this platform called Knack. Do you mind being the first one that uses it?'"
What was your experience like being a tutor on Knack?
"My experience tutoring on Knack was pretty cool because I could have students reach out to me that I'd never met before. I would do group review sessions, but it was hard to get to know everybody. I liked that it also allowed me to have one-on-ones with students I didn't know were struggling. What I really loved about Knack was that I could get like alerts and notifications saying this specific student needs help and then I could say, 'Okay, what exactly are you struggling with?'. I had the same recurring students that would come, which was heartwarming. I was able to host a couple in-person group review sessions for my students and with them RSVPing on Knack, I could see how many students were coming. I've got a lot of awesome memories, but honestly a lot of it was just the repeating students that chose to come back and meet every week."
Do you think your experience on Knack helped with your post-undergrad achievements?
"I definitely used a lot of my Knack experience in a lot of the traditional interview questions, like, 'Tell me a time in which you were overwhelmed and needed help.' I'm going into what's called a nurse residency program for new grads. Being a tutor gives me a different sense of appreciation and understanding that if my teacher is telling me something, it's because it's for the better. They really do care about me. I'm taking my NCLEX in two weeks and I feel very prepared because I've been tutoring so much. I'm going to have to adapt teaching for different patients in the same way I would adapt teaching for different students."
What is Knack's most defining feature?
"The best part about Knack is that it allows students to reach out to one another. Most students want to reach out, they just don't know how. For me, I was able to stay organized because I can see what someone wants help with, what time they want to meet, and then decide if I want to help them. So I think for the students, it's a very good app. I've already given all of my reasons why it's great for tutors, but honestly for the students, it gives them really a good way to reach out which is the hardest thing to do."
Do you have any advice for current college students?
"My advice for current college students would be to find what your strengths are and really focus on those. It's not going to do you any good to sit there and say, 'Man, I'm so bad at this.' You can dwell upon the weaknesses you think you might have, but really find your strengths. Not only that, but find what makes you happy. Your college experience is about you. Everyone thinks there's this stereotype of what college is and if that's not you, it's not you. I would encourage any student to just stay true to yourself. That's the biggest advice. Just do what works for you, take care of yourself, do the things that you love. There's no one size fits all for college."
Why should college students consider being a tutor at their school?
"It gives them the opportunity to dive into a leadership position in a field that they want to go into. Not only is it a rewarding leadership opportunity that looks amazing on a resume, but you also get to interact with your fellow students. It gives you opportunities to work with those that are going to be in the field with you. It's a great way for you to refresh your own knowledge of the subject. It's going to make you a better person, a better employee, a better leader. It's also heartwarming because you do benefit your peers and your peers truly benefit from you. It gives you so much experience in a real-world job position that you wouldn't expect. It's hard to get a lot of that experience working in college. With Knack, the opportunities are endless. You can put in as little or as much as you want."