3 min read
Tutor Success Stories: Targol Tarahomi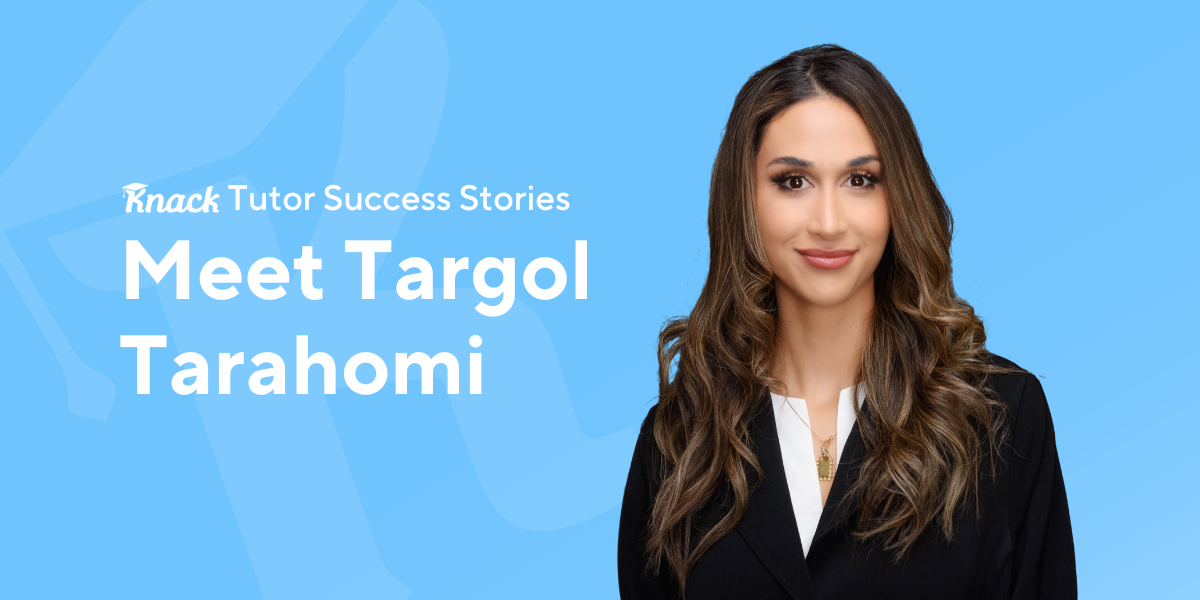 On May 18, 2023, Knack surpassed $1,000,000 in sponsored tutoring facilitated through the platform. While celebrating this accomplishment, we took the time to reflect on how far we've come since our humble beginnings at the University of Florida. Much of Knack's early success can be attributed to our first tutors who took a chance on a brand new startup run by a group of college students.
Meet Targol Tarahomi, one of Knack's first tutors at UF.
Targol was a Knack tutor from 2016 to 2019, tutoring students in science courses such as Organic Chemistry and Microbiology. Today, Targol is a recent graduate of Nova Southeastern University's medical school. As she prepares to begin her residency, we asked her to reflect on her time at Knack and share her story.
Tell us about yourself!
"I'm Persian. I was born in Canada and then my family immigrated to the States when I was two. We settled down in Tampa, Florida where I went to high school and became the valedictorian. During high school, I took dual enrollment classes at University of South Florida and Hillsborough Community College, which eventually allowed me to graduate college in three years. During my time at UF, I worked as a science teacher at a local Title 1 middle school, an experience that taught me a lot, and began tutoring with Knack. Then, I came down to South Florida to complete medical school and now I'm starting my three years of residency."
What was your experience like being a tutor on Knack?
"I really enjoyed my experience being at Knack. I liked seeing how the company grew and I liked being a part of something from its inception. I've done tutoring privately and elsewhere, but you don't always feel valued as a part of the team. There was more flexibility and more room for me to grow when I was at Knack. I liked the fact that it was only college students, most of which were in the same path as me. It felt like the tutoring that I was doing was more meaningful because the students I had were actually preparing to take the MCAT or higher level science courses. I really felt like I was giving back to the future of healthcare or whatever path my students were on. I would continue to do it if I could!"
Do you think your experience on Knack helped with your post-undergrad achievements?
"I think aside from the fact that I put it on my CV, it made me more confident because I had a good amount of recurring students which helped with my time management and learning how to manage different clients. It really helped me hone in on the kind of tutor/teacher I wanted to be because I was able to tweak my delivery of information. When I tutored Organic Chemistry for the umpteenth time, because everyone needs help in 'Orgo', I really felt more confident in it. It's not like Knack can tell you this is how you teach Orgo, but it facilitates your ability to pick up more students which makes you more confident in what you're saying and how you want to deliver it. In tutoring, over time, I realized that having that active recall, forcing someone to talk about something rather than me just sitting there reading off the slides to you, is immense."
What is Knack's most defining feature?
"I feel like Knack's most defining feature, from a business sense, is being able to pivot and stick to their core values of bringing education to students and having another avenue for students to pursue so it's not just your typical TA sessions. I'm not currently a tutor, but from the outside looking in, I feel like that's what's allowed Knack to accomplish more. They can see opportunities and fit it in with what they care about as a company while incorporating more access to education."
Do you have any advice for students interested in medical school?
"My advice for people wanting to go into medicine, specifically medical school, is to be extremely sure this is the path that you want to do. Besides shadowing, research, and clinical hours, you should try to live the life of a physician for a little bit in undergrad and make sure this is what you want to sign yourself up for. Knowing the most and being the most proficient in the field is great, it's what we all want, but medicine is constantly changing. By the time you're done with undergrad, medical school, and residency, medicine will have completely changed. Make sure it's what you really want. As far as being a competitive applicant, your MCAT score and research matters, but never underestimate the power of networking. Your networking ability and who writes your recommendation letters are huge."
Why should college students consider being a tutor at their school?
"For lots of reasons. I think one, it teaches you professionalism. Two, the gold standard for if you really know something is if you're able to teach it to someone else. I will never forget Orgo because I've tutored it for seven years at this point. It's mutually beneficial. It benefits the student obviously, but it's a good way to make money, too. You feel like you're giving back. All of these reasons are great, valuable things to have in life. I think mutually beneficial is the best way to put it."