6 min read
Why Video Conferencing is Only One Part of Remote Tutoring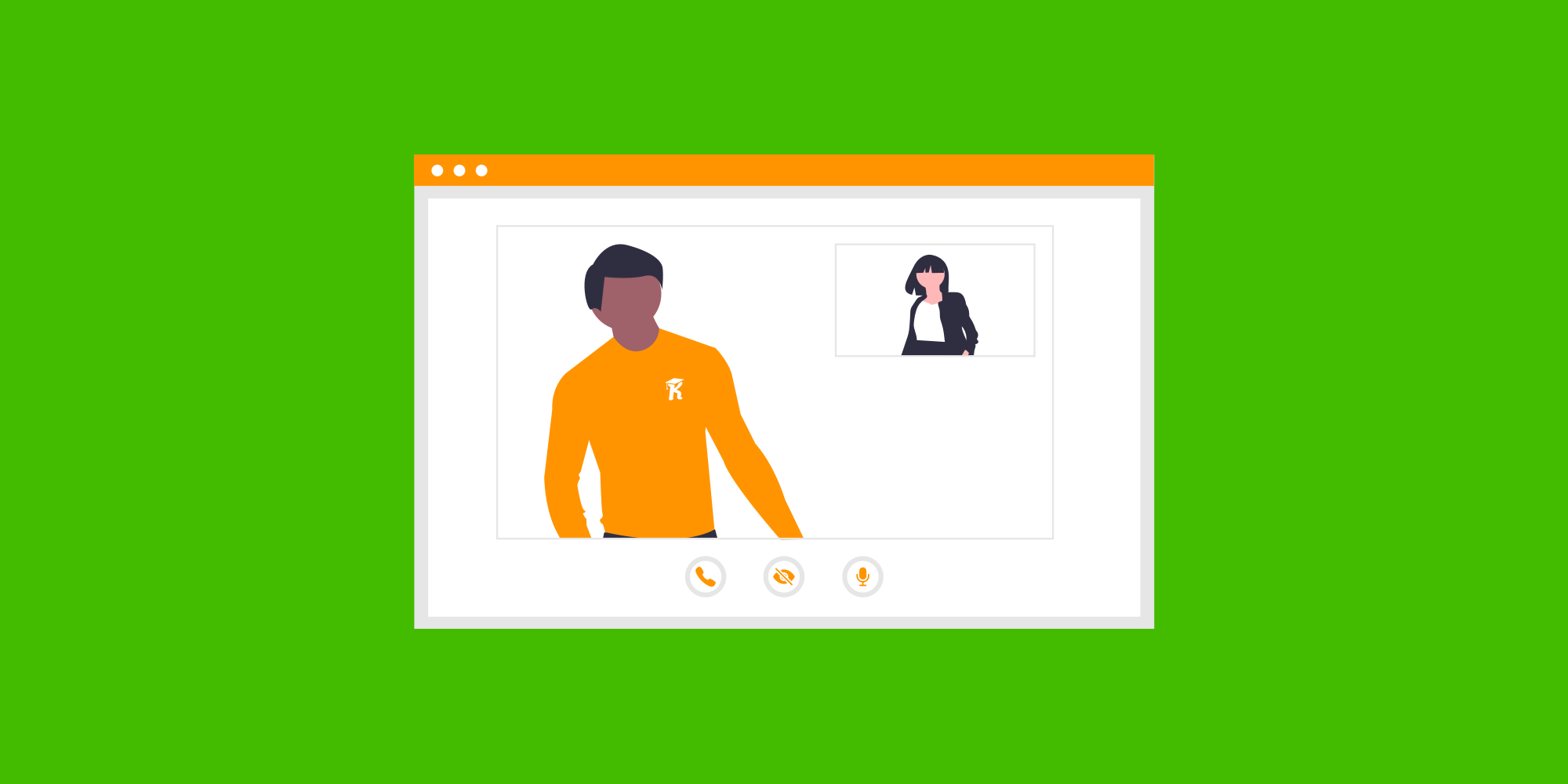 When everything in higher education goes remote, as it has amid COVID-19, the first thought for many administrators is to transfer all in-person contact to video conferencing.
It's easy to see why this would be the proposed solution. Video conferencing allows staff to stay in touch with students in a way that attempts to "make up" for in-person meetings. After all, if we can't serve our students in person, seeing them through our computer screens is the next best thing.
Video conferencing is doing a lot to bridge this gap in higher ed right now, but does it do enough to bridge the gaps created by virtualizing student support services? What worked as a quick solution to an unexpected mid-semester change may not be comprehensive, sustainable, or scalable into future terms as campuses move online for the summer and possibly the fall.
In preparation for upcoming summer terms, the current no-cost COVID-19 offer from Knack can help you build a sturdier foundation for remote tutoring that goes beyond video conferencing to better serve your core needs. In less than 24 hours, Knack can onboard your team of tutors onto an end-to-end tutoring platform that is designed to help you reach more students. This quick transition helps to minimize disruption, while maximizing your reach and impact.
Knack's philosophy of holistic support empowers campuses to scale services for students during this difficult time. Video conferencing is a very helpful tool, but the range of support it provides you is limited. Here are three reasons why remote tutoring is so much more than video conferencing.
There's More to Tutoring Than the Session Itself
If you run a student services department, you know that there is more to it than the time spent helping students. There are a host of activities that occur behind-the-scenes that enable a department to deliver high-quality student support. These activities include managing inboxes, scheduling appointments, budgeting, staffing, data collection and reporting, training, payroll, and more.
That's why, while video conferencing is essential, it only helps with a small portion of the work that goes into running an effective program. After all, there's more to remote tutoring than the session itself. Facilitating tutoring relationships and quality tutoring sessions on campus requires a lot of work to make it seem like a seamless operation. Now your team is working from home, where they are juggling family obligations and managing self-care during a global pandemic. If there were ever a time to leverage technology for streamlined efficiency and ease, it would be now.

Knack offers end-to-end support with a platform built to streamline the experience for both students and administrators. Take scheduling, for example, which is demonstrated in this Knack Online Demo Video. Students can browse tutors at your school, look at their profiles and reviews, message them with preliminary questions, and schedule an online appointment, all in a modern tech platform that is designed for an optimal user experience. This alleviates you from shouldering a critical administrative process, while allowing you to view student activity and data.
Knack's ability to provide more than just video conferencing empowers institutions to drive a better academic support experience for their students as they continue adjusting to a remote learning environment.
Gen Z Students Expect High-Quality Tech
In order to effectively administer remote learning, you must select tech solutions that are not only easy for staff to implement, but that actually spark student engagement. It's important to understand that, while many of us might be learning how to use new technology during this time, Gen Z students grew up in a world where apps like Airbnb, Uber, and Postmates have made nearly everything readily available at their fingertips. They are accustomed to a personalized experience (Spotify and Netflix), the ability to read and leave reviews (Amazon and Yelp), and the power to easily book services and accommodations from their mobile device (Uber and Airbnb). From banking to take-out to travel, Generation Z assumes "there's an app for that" and opts for this kind of engagement.
In as little as 24 hours, Knack empowers you to meet your students where they are, which drives a lot more engagement than telling them to come to you and hoping they show up. Imagine, for example, if Airbnb asked website visitors to send an email to get connected with hosts in a city, had them meet with potential options via video conferencing to see the space, told hosts to make arrangements for payment with each guest separately, and then called guests after their visit to solicit a review. Would this allow people to book rooms? Yes. Would it create a good experience for them? No.
Simply checking all of the boxes (scheduling, reviewing, payments, etc.) doesn't cut it for the modern consumer. It's no longer enough to make a service available, you need to make the experience of getting that service efficient and enjoyable. Just as Airbnb provides an optimal experience for both guests and hosts, Knack helps institutions provide students the support they need in a format they want.
This is especially important for institutions who are looking to scale support during COVID-19, since you may find that demand for certain courses increases now that remote learning is in effect. Knack's technology allows you to capture this demand, connect students with appropriate campus resources, and scale your services to meet new tutoring needs as they develop. This also helps to ensure that students feel as though their voice is being heard, which is in line with their social media influenced ideology.
Designed for Gen Z students, Knack's technology is optimized to convert student visitors on your website into student users of your tutoring services. With increased web traffic during a time in which students may need more help, the process for finding a tutor needs to be very efficient to ensure that every student gets the help they need. Simply providing an email address, phone number, or even a link to a request form may not be enough. This video, on the other hand, shows students just how easy it is to connect with campus tutors through Knack. Sharing a video like this on your website will encourage more students to take advantage of your resources during this critical time.
Collecting Data is Key
As an administrator, you are always asked for data about your department's programs and services. The demand for this insight can only expected to climb during this time of remote learning. Video conferencing serves a purpose, but it doesn't help you collect relevant tutoring data or assist you with reporting the impact of your work. Knack, however, is built to do just that.
Since you have limited oversight into virtual tutoring sessions, it's more important than ever to collect and analyze high-quality tutoring data. Knack enables you to solicit student feedback after every tutoring session, view session descriptions from tutors, track overall tutoring usage, and more. By collecting comprehensive data reporting and feedback from tutors and students about your current processes, you will be able to better optimize your virtual tutoring operations through continual, incremental improvements. This is made possible by a holistic platform that is designed to meet your most critical needs.
Knack's power when it comes to data can even help you increase the number of students you reach during this time, all while scaling services at a pace that works for your department. Consider this Fall 2019 Case Study on how the USF Muma College of Business partnered with Knack to increase the impact of their peer tutoring initiatives. Through this partnership, Knack found ways to reach at-risk students and facilitated 968 hours of tutoring for students in high-DFW (drop/fail/withdraw) courses. Knack also helped the college increase accessibility beyond drop-in only services with limited hours. In fact, 65% of the students who worked with Muma tutors through Knack had never used existing campus tutoring services before.
In addition to post-session feedback, data collection, and strategies to attract engagement, Knack will soon have a feature that prompts tutors to provide a more in-depth recap of each individual tutoring session. This will allow tutoring center staff to have even more insight into the services being delivered during this time of remote learning.
Video conferencing is a tool in remote tutoring, but it is singular in what it provides.