8 min read
Why Certain Students Don't Use Tutoring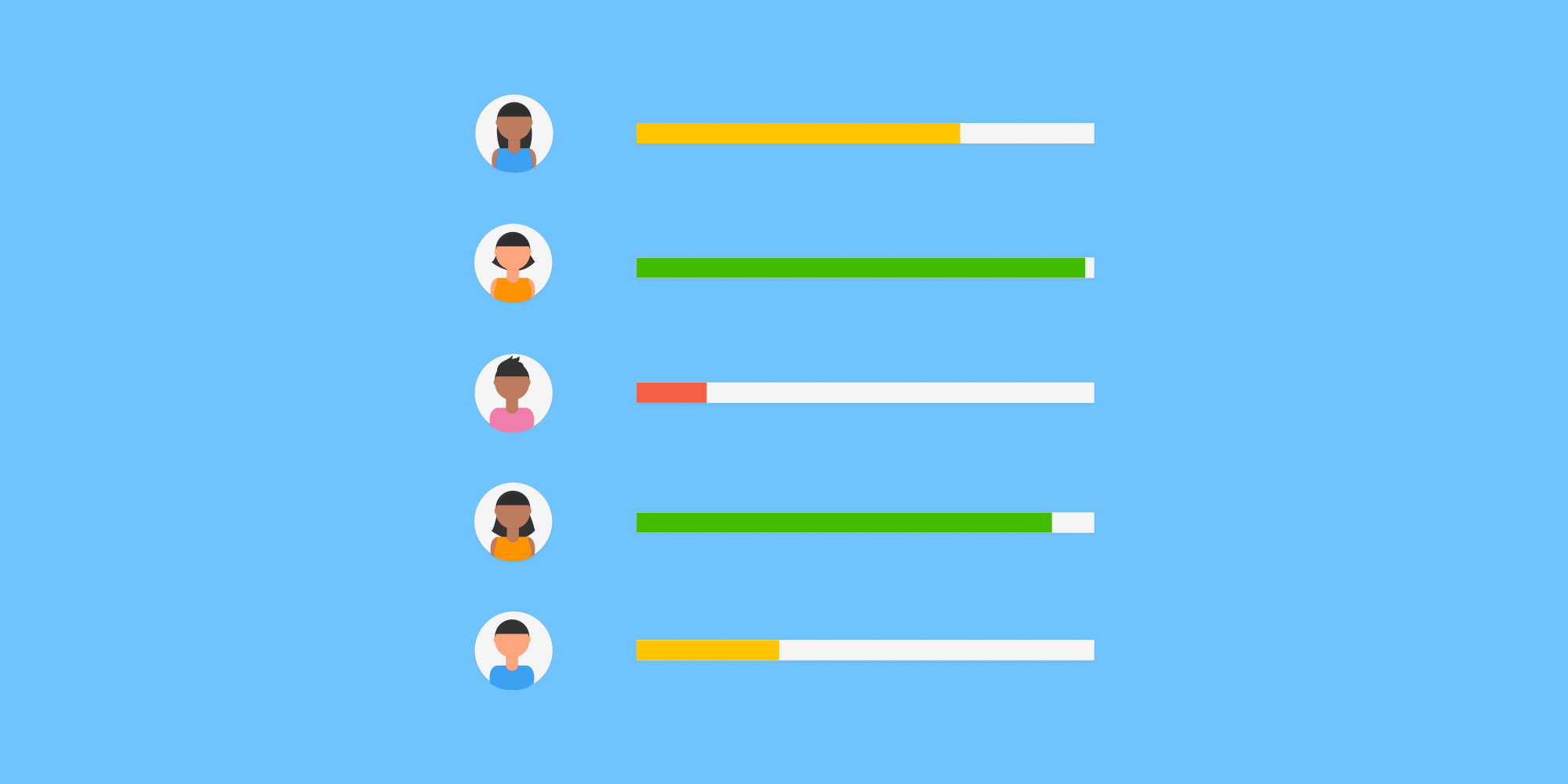 It often seems as though the students who would benefit the most from using tutoring are the same students who are least likely to seek it out.
While tutoring programs aim to lower fail rates of students in historically difficult classes, the students who are at risk of failing are much less likely to use these services than the students who want to get an A but are on track for a B instead. This painfully apparent paradox is backed by a lot of research exploring the reasons why students don't make use of the learning resources available to them on a college campus.
The most frustrating part of this problem is that incoming students express an intention of utilizing these services, according to Dr. Jim Cole, Project Manager of the Beginning College Survey of Student Engagement (BCSSE).
Here's what he had to say:
"Since 2007, the BCSSE has collected information from entering students about their prior academic experiences as well as their expectations and beliefs about the upcoming academic year. In the fall 2019, BCSSE collected data from more than 94,000 entering students enrolled at 141 institutions across the United States and Canada.
In 2019, approximately two thirds of entering first year students expected a moderate to high degree of difficulty learning course material. Expecting a high degree of academic difficulty can be facilitative if coupled with the student's belief that they can get academic help when needed. BCSSE findings show that most of these students do not believe it will be very difficult to get the help they need. They also say they plan to use campus learning support services. At the same time, about two thirds of the students anticipating to have a high degree of difficulty meeting academic demands also expect to "often" or "very often" ask another student for help."
So, if incoming students expect to experience academic difficulty and intend to use support services, why don't they? Let's explore some of the barriers that stand in the way of students getting the help they so desperately need.
Negative Stigma
Despite efforts to reduce the stigma around tutoring, many students still hesitate to ask for help on account of how it might make them feel or how they think others will perceive them. The root of this stigma is the false association between seeking help and being stupid, which is rooted in a fixed mindset perception of intelligence. American culture idolizes so-called "natural talents" to an extent such that working hard and asking for help are viewed as things you shouldn't need to do if you're already good enough. This sentiment was echoed in a focus group where students spoke openly about their hesitations around working with a tutor. One student drew an interesting distinction:
"I feel like it's whether classes are within your major or not. Like if a class is within my major, I don't feel like I should go to tutoring for it, because it's my future. I feel like it's expected, like I, well, I chose this, so why don't I understand it? … But if it's like a [general education requirement], then that just isn't my strong point, so… and it's like easy to say that, but you can't say that your major is not your strong point."
This mischaracterization of tutoring as something that only benefits you if you're incompetent and "can't keep up" prevents a lot of students from learning that the opposite is true. One opportunity for reducing the stigma associated with seeking help is to make it more approachable, social, and accessible. Students are less likely to feel judged for using tutoring if they can see others doing the same. Furthermore, if students can see the tutors available to them before coming into a center, they might be less intimidated and less concerned with tutors making them feel judged.
Personal and Psychological Obstacles
Outside of dealing with the stigma associated with getting academic help, students face additional psychological obstacles when considering the prospect of working with a tutor. Some students anticipate the one-on-one setting to be intimidating, feeling like this student who said, "I hate the idea of going alone someplace, unless I knew I had a friend going with me, um I don't know it's just a weird thing for me, I probably wouldn't unless I had a friend with me that also felt comfortable going."
Beyond the discomfort some students feel about getting one-on-one help, other psychological barriers decrease the likelihood of seeking help. Whether it's blaming the professor, thinking it's already too late, or thinking they don't have enough time. For certain students, however, real personal obstacles stand in the way of getting help.
Students who do not live on campus or work while in school are less likely to make it to an in-person tutoring center during its operating hours or even access online resources if they are only available during specific times. Similarly, students who are parents might not be able to find sufficiently affordable childcare to allow them to spend additional time on campus outside of lectures. These students, who are already at a higher level of academic risk due to external responsibilities, should not be forgotten when designing tutoring services. Even though they are harder to reach than a student who lives in a dorm and focuses on school full-time, they can still be served by making tutoring more accessible using technology.
Lack of Knowledge
Sometimes, students don't use tutoring because they simply don't know it exists. Or, they know it exists but they don't know where to find it. Or, they know where to find it but they don't know what the tutor qualifications are. Or, they know what the tutor qualifications are but they don't know how to go about setting up their first appointment.
In the simplest of terms, what's standing in the way of these students getting the help they need is a fear of the unknown. One student expressed this hurdle by saying, "I feel like the only reason it takes so long for you to get to that point [where you use tutoring] is because it's like a black box and you have no idea what's going to happen on the other side."
In order to extend the reach of their services, tutoring programs must make an effort to provide students with sufficient access to information about how it all works. This can involve adding tutor profiles, student testimonials, frequently asked questions, and instructions for getting started to your website. Furthermore, creating a low-barrier way for students to get their questions answered like a number they can text or a live chat feature can help ensure that students aren't too discouraged to ask a question.
Lack of Accessibility
Another major reason students cited for not using tutoring was their inability to get help when and where they needed it most. Many students expressed a desire for late night and weekend hours, noting that these are the times they are already studying. One individual explained this by saying, "Especially during finals week, I, like, lived in the library. I would have gone at, like, two in the morning or three in the morning or whatever time that need be, if there was just, like, increased hours, more people to talk to."
In addition to advocating for more hours of availability, many students noted an inability to find a course-specific tutor for their more advanced classes.
"Absolutely would have come to tutoring, but there's nothing for the class I was in, computer science, high level computer science, there's no tutor, there's computer science classes [that] often have a person who is attached to a particular course you can go to, but there was no one like that for this course, uh, so there was no help for me…"
One way to solve accessibility issues is by employing a distributed network of tutors to remove these unnecessary constraints. Using a sharing economy model for peer tutoring has helped schools like Harvard University ensure that no student is left unserved. High-impact practice expert, Dr. George Kuh offered the following explanation as to why this is important:
"Given the non-trivial influence peers have on a student's attitudes and behavior during college, institutions would be wise to seek ways to leverage peer interactions to foster student success. One step is to take stock of initiatives aimed at promoting educationally purposeful peer interactions (EPPIs), such as well-trained and monitored peer tutors and mentors. Doing so is a win-win-win for the peer tutors and mentors who make some money and enhance their interpersonal and problem solving skills among other personal and vocational development gains, the students receiving peer support who do better in class and get a boost in academic self confidence, and the institution which realizes a bump in student persistence and completion rates."
Approximately two thirds of the students who get tutored on Knack have never utilized campus tutoring before. Head over to joinknack.com/colleges to find out how we can help you reach the students who aren't currently making use your existing services.
To start a conversation about how Knack can help your campus support every student and course, contact us here.